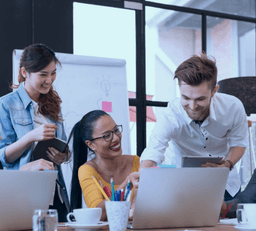 Calculating ROI on Managed IT Services for Businesses
Why ROI Calculation Matters:
Businesses thrive when they monitor their return on investments (ROI). However, since businesses vary, standardized models are elusive. Consequently, some business decisions lead to net losses. But, by evaluating the ROI on your current IT services, you can discover ways to both increase profits and enhance service quality.
What is ROI?
At its core, ROI stands for 'return on investments'. While primarily used to juxtapose profits against capital invested, it's also a performance metric. For instance, the ROI of an employee can encompass training duration, productivity, and more. The basic ROI formula is:
Return on Investment (ROI)
=
Net Return

Cost of Investment
A high ROI indicates a favorable gain, whereas a lower ROI might necessitate adjustments. It's essential to gauge both optimistic and pessimistic estimates to understand the potential range of ROI.
Understanding ROI in Managed IT Services:
While it's common to discuss ROI in monetary terms, in the IT realm, it's also about service quality. The ROI calculation for IT services involves these five key components:
Starting Costs:
Visualize IT costs as percentages of revenue to understand its weight in your business. For small enterprises, the optimal IT service expenditure is approximately 6.9%.
Current IT Staff:
Examine your existing IT staffing scenario. Managed IT firms typically either supplement your team or assume all tech responsibilities. Compare the cost of in-house staff against managed services for a clear picture.
Current IT Support:
Many small businesses use regular employees for IT tasks. Gauge the monetary value of their time versus the cost of a monthly IT service to determine the better option.
Business Downtime:
Operational downtime costs profits. Calculate your losses from tech interruptions, outages, and old hardware to understand the financial implications of downtime.
Boosts in Your Business:
Managed IT services can elevate customer service, production efficiency, and overall client satisfaction, leading to a higher ROI.
Axio ITm: Premier Technology Solutions
At Axio ITm, we go beyond the average IT service. We deliver top-tier technology solutions tailored for every business. To explore optimal IT solutions, schedile a consultation with our experts today.
Let's Connect
The Right IT Solution for your Business
800.550.1396
Learn More