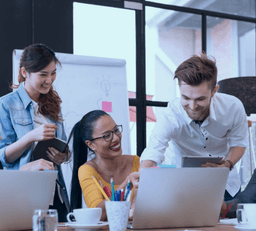 What is Security Awareness Training?
---
Security awareness training is a form of education that equips your users with the information they need to protect all assets from loss or harm. For the purposes of any security awareness training discussion, members of an organization include employees, temps, contractors, and anybody else who performs authorized functions online for an organization.
Organizations that must comply with industry regulations or frameworks such as PCI (Payment Card Initiative), HIPAA (Health Insurance Portability and Accountability Act of 1996), the Sarbanes-Oxley reporting requirements, NIST or ISO usually deliver security awareness training to all employees once or twice a year.
While not all Small to Midsize Businesses deliver training on the same schedule, they certainly would benefit from doing so. Cybercrime is not sizeist. By training your employees to avoid cyber-heists through phishing attacks, account takeovers, or other well-known means that cybercriminals use to misappropriate company funds you and your company will be safer through and through.
Why Do You Need Security Awareness Training as a Part of Your Cybersecurity Strategy?
---
To be aware, you need to be able to face things as they are. With Axio ITm we help employees confront the simple fact that bad guys are trying to trick them. Then we train them how to avoid these tricks. They become aware and able to detect scam emails and can take appropriate action like deleting the email or not clicking a link. Cybercrime is moving at light speed.
A few years ago, cybercriminals used to specialize in identity theft, but now they take over your organization's network, hack into your bank accounts, and steal tens or hundreds of thousands of dollars. Organizations of every size and type are at risk. Are you the next cyber-heist victim? Security strongholds are essential but you also need a strong human firewall as your last line of defense. Security Awareness Training gives you just this.
Let's Connect
The Right IT Solution for your Business
800.550.1396
Learn More